WordPress es tan grande que no solo se utiliza esta plataforma para montar blogs, sino que también hay muchas empresas que montan sus tiendas virtuales sobre este genial CMS que nunca deja de evolucionar.
Por cierto, aprovecho para poner algo que creo que no habíamos explicado por aquí:
Un sistema de gestión de contenidos (en inglés Content Management System, abreviado CMS) es un programa que permite crear una estructura de soporte (framework) para la creación y administración de contenidos, principalmente en páginas web, por parte de los participantes.

Consiste en una interfaz que controla una o varias bases de datos donde se aloja el contenido del sitio. El sistema permite manejar de manera independiente el contenido y el diseño. Así, es posible manejar el contenido y darle en cualquier momento un diseño distinto al sitio sin tener que darle formato al contenido de nuevo, además de permitir la fácil y controlada publicación en el sitio a varios editores. Un ejemplo clásico es el de editores que cargan el contenido al sistema y otro de nivel superior (directorio) que permite que estos contenidos sean visibles a todo el público (los aprueba).
Pues lo dicho en el título, 20 magníficos temas tras el salto para montar una tiendecita.
Fuente | WebDesignLedger
The Store template is a great ecommerce WordPress theme, with a really good-looking and functional interface; it's easy-to install and maintain with accessible backend administration. The theme's creators are available for pre-sales questions and customer support.
This is a very popular theme enabling users to set up and manage effective ecommerce stores. The theme is search engine optimised and customisable so can be adapted to suit any home-based business niche.
3. AppCloud
AppCloud is a beautifully clean and professional looking theme, with a two-column layout, integrated slideshow and the choice of horizontal or vertical orientation for images and apps. The theme's ecommerce features include featured, top-selling and categorised product lists.
This theme offers extreme ease of use for both sellers and customers, simple to configure with an intuitive and crisply designed interface. The template has powerful features and can be tweaked to suit any product.
Sellers can establish an online store from scratch with this theme, showcasing products and with easy payments, shipping and stock management.
This premium WordPress theme offers users the chance to create an online auction or reverse auction website. Whether its cars or bikes, books or antiques, once the easy-to-use theme is setup traders can auction any kind of property online.
Market Theme transforms any WordPress into a fully operational online store. In its default setup the theme has the look and feel of a regular blog, but there are many options to customise the design including the choice of a grid-view shop front to showcase products.
8. Kidz Store
This bright and friendly theme is a great way to present products aimed at children and, more importantly, their parents. The colourful and functional shop front is supported with backend administration and all the necessary ecommerce features.
This premium theme allows sellers to transform WordPress blogs into accessible online stores with a sleek and professional aesthetic. The design has widget-ready pages, PayPal integration and a solid range of ecommerce tools.
10. eGoods
eGoods is aimed at traders who sell downloadable products and receive payment via PayPal. The theme options include a choice of light or dark colour scheme, both very visually appealing, and customisable layout for images and text. The design includes featured products, bestsellers, recent releases, reduced items and gift vouchers.
11. Vanilla Cart
Vanilla Cart is an attractively minimal and crisply designed shopping theme with thoroughly customisable template. The simple yet beautiful design, with a light colour scheme and the emphasis on product shots, allows the stock to speak for itself.
12. Color Cart
This theme is based on Vanilla Cart, with the added twist of a colour wheel in the options. A choice of eight hues allows users to bring a splash of colour to ecommerce stores, carefully selecting just the right combination to suit their niche market.
13. Cherry Cart
This theme is absolutely minimalist, pared down to a single column with no side bar or blog category. Built around the concept of 'embracing simplicity and constraint', Cherry Cart is a remarkably inviting platform in which to showcase products.
This brilliant theme allows users to turn their blogs into classified ads websites. Users manage the site and in return charge to display ads on the site. The design is PayPal integrated, features an admin panel and is fully customisable to suit any classified ads market.
15. folioShop
The folioShop is aimed at sellers who want an attractive and intuitive interface in which to showcase products to be shipped out or downloaded by customers. The theme features an installation wizard, visual help guide and all layered PSD files.
ClassiPress is a professional theme for turning WordPress blogs into classified ads sites. The latest version of the theme features unlimited custom fields and forms, ad packages, blog option, directory-style homepage, email alerts, featured ads carousel, transaction logging and Twitter feed.
17. wpShop
This premium theme presents a great looking ecommerce store in a choice of light or dark colour schemes. The package includes all layered PSD files, installation wizard, help guide and is available in English and German languages.
18. Simple Cart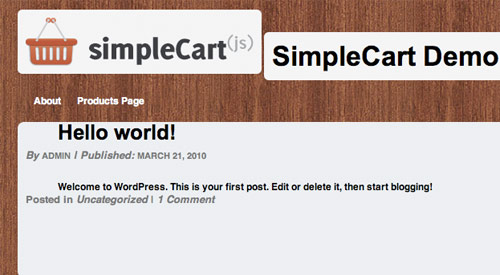 Simple Cart is a simple and great looking theme for sellers to present products in a gridded shop front, with a friendly wood effect background. The colour scheme can be switched and users may install their own images into the fully customisable design.
Tobashop is integrated with another WordPress ecommerce theme, eShop, to make use of the powerful plugins in order to create an online store with a highly professional feel.
20. enVirashop
This theme requires no