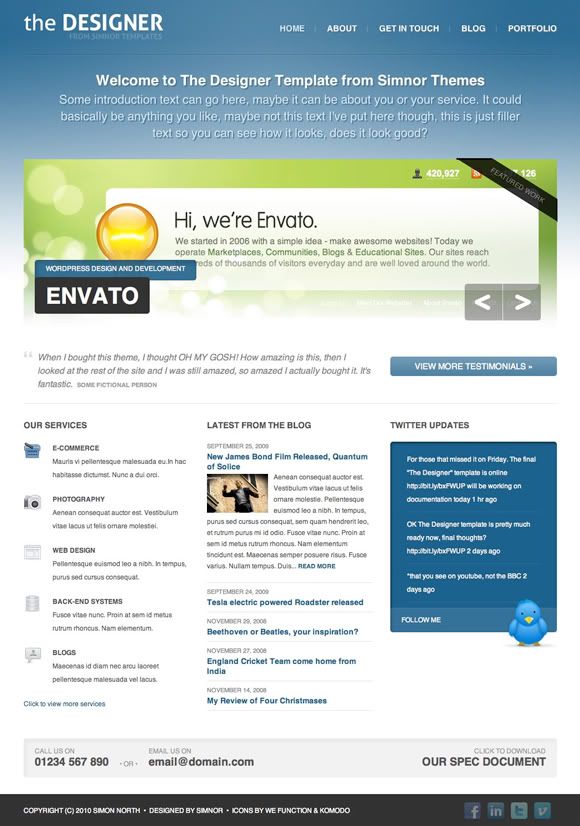 Está clarísimo que un tema premium en el 99% de los casos es muchísimo mejor que un tema gratuito para WordPress, pero también es lógico que prefiramos en muchos casos ahorrarnos ese dinero y diseñar nosotros el tema o usar uno algo menos atractivo, todo depende de la ambición de cada proyecto.
En cualquier caso, si lo tuyo son los temas premium y te encanta lo bien preparados que vienen, tras el salto quedan cuarenta que son de lo mejorcito que salió durante los meses pasados, una auténtica maravilla en la mayoría de casos… pero obviamente de pago.
Fuente | OurTuts
Modern Realtor wordpress theme is designed for real estate type websites. It may also be suitable for showcasing your work or products.
Real Estate Gold wordpress theme is designed for real estate type websites. It may also be suitable for showcasing your work or products. It comes with built in basic real estate listing filtering, featured slider banner and admin options to customize the theme.
The Designer
The Designer is a great looking portfolio/blog wordpress template packed full of features and options.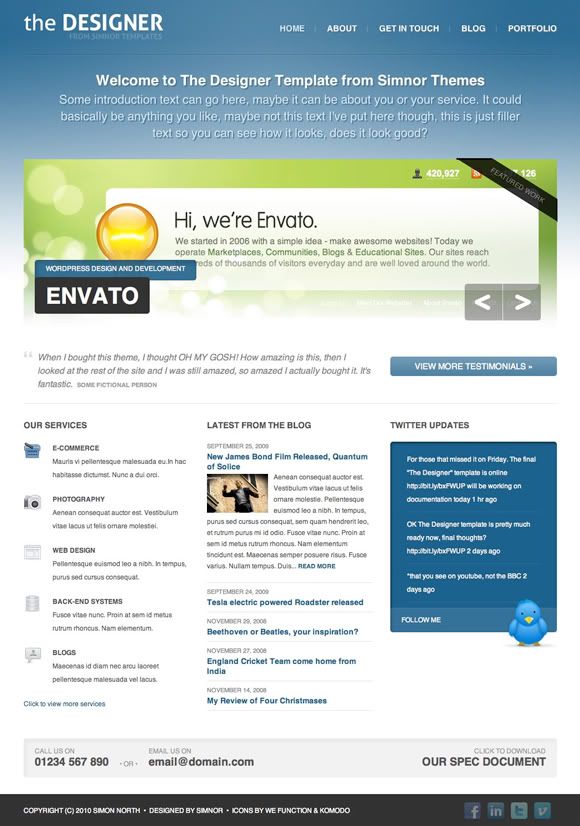 Designtia WordPress theme is built to fit all your needs, either you want a portfolio, corporate or ezine website.
New Agensi
New Agensi WP, is the WordPress version of Agensi HTML /CSS Template. Comes with lots of improvements from the original version and by utilizing the dynamic aspects of WordPress make New Agensi is even more customizable and generally suitable for your portfolio, blog, or corporate website.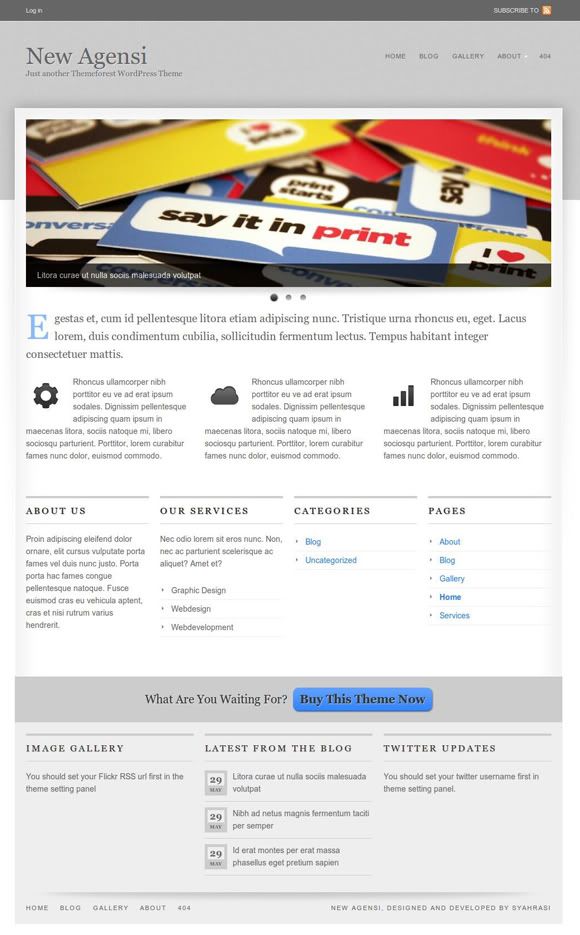 Alpha
Alpha WordPress theme is a clean, beautiful and easy customizable theme. It's perfect for clean looking websites. This theme comes with massive and functional theme option page which gives you entire website under your control. It comes with 4 page templates, Portfolio, gallery , blog and contact.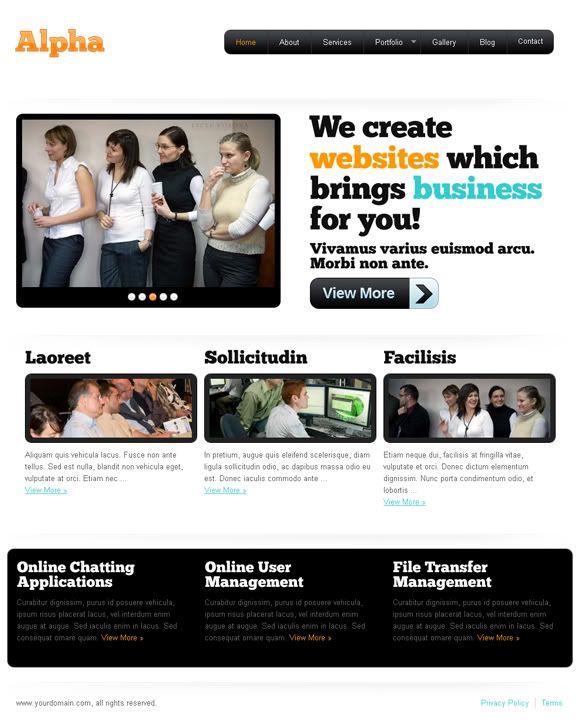 Meezio
Meezio is a simple and clean one page portfolio theme. It uses the JQuery library and scrolls horizontally, vertically or both. The content is built using the 960 Grid system and is easy to customize.
Colosseum is the ultimate fusion of wordpress, creativity and great futures. This premium theme can be used for just about anything, from corporate websites to personal portfolios. It uses a lot of advanced css3 and jQuery effects, yet it still works on browsers that don't support it.
HypeWp
Hype gets it all together. Whatever you need its in it. Full width slider, fully formatted elements, portfolio, blog working AJAX contact form, column template a whole lot more.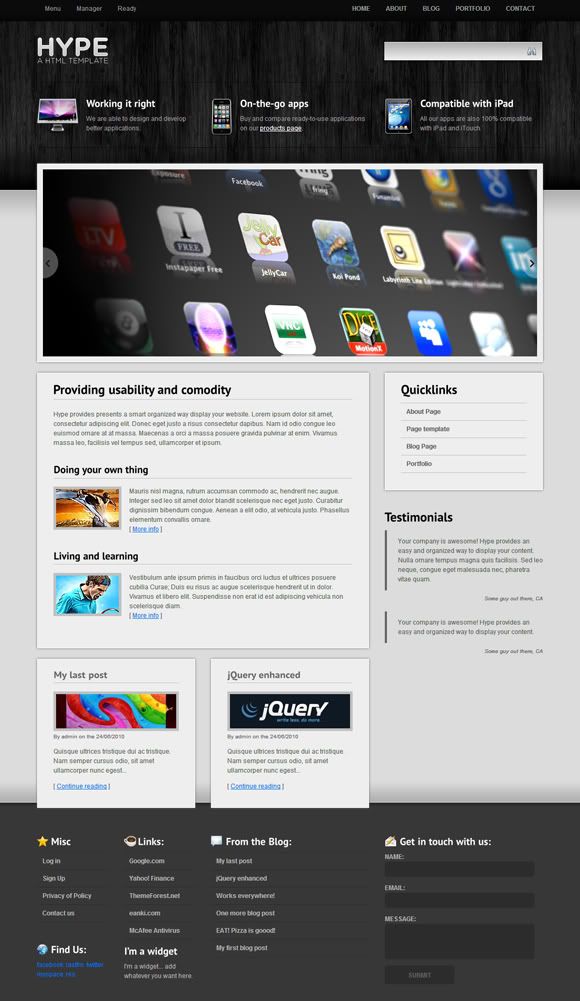 VooSky comes with awesome featured post slider, Two home page layouts, 8 colors, fully working contact form, Advance theme /post and page option panels, portfolio page(multi page or single page) , Dropdown navigation with infinite dropdown levels and many other…
Quickstart Real Estate wordpress theme is designed for real estate type websites. It may also be suitable for showcasing your work or products. It comes with built in basic real estate listing filtering, featured slider banner and admin options to customize the theme.
Elegance is a elegant, simple, clean and minimalist WordPress Theme suitable for portfolio, business, blogs and personal sites.
Modern Business
Modern Business 3 LIGHT WordPress is a custom written premium theme with a total new design, images and layout from the HTML (the html version is all fully included in the download with lots of PSD extras!). Designed for photographers, designers or application sellers it's very easily create gallery pages of your work and display perfectly against a light background – the theme comes with 8 gorgeous color schemes that not only change the background images but link colors and button rollover colors to perfectly match.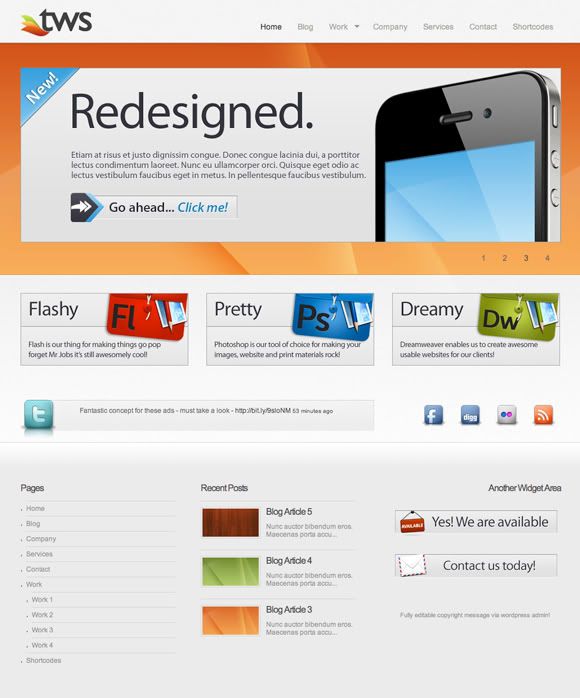 The Wall
The Wall is one of the most flexible, customizable, and easy-to-use WordPress themes on the market. With The Wall, you will be able to run your blog, portfolio, and business in a way that is professional, elegant, and aesthetically pleasing.
Parabiz
Take advantage of WordPress 3.0 great new features with this powerful theme. With it's five post types, publishing content has never been easier in WordPress.
The theme has a video insertion panel, that makes video-insertion fast and easy. You can insert Vimeo video, Youtube video and Flash video(swf).
The theme has unlimited colors and backgrounds, alle configurable through the theme options panel.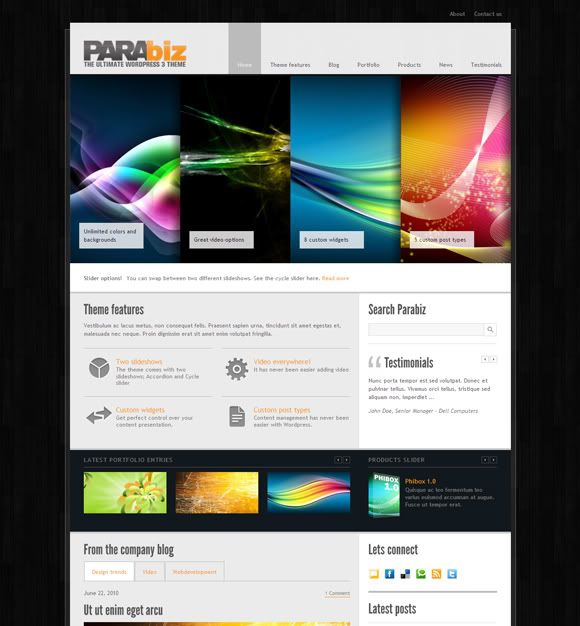 Pathfinder
PathFinder is a one page and a keyboard navigation driven wordpress theme. This theme is unique from other because it has a life stream section that displays all the recent social activities like (Twitter, Digg, Delicious, Stumbleupon, Facebook, LastFM, Flickr and Tumblr) and it is easy to add user account from the social sites mentioned above on the Life stream settings from the admin custom panel.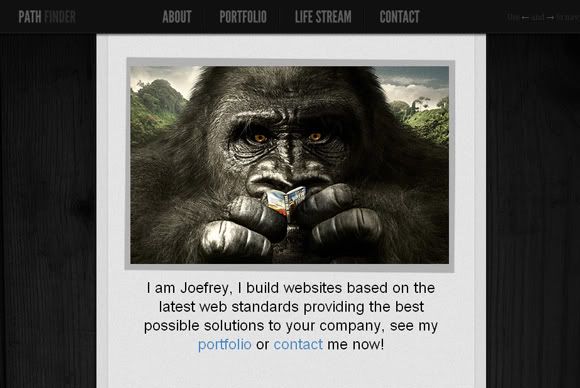 Professional looking, clean designed WordPress Theme with powerful features and custimizable layout. Great for blogs or business websites.
Transparency
TRANSPARENCY theme was created to offer to anybody the chance to create a wonderful website, using the wordpress platform. The main feature offers the possibility to change the opacity level for each element of the theme and the option to add different backgrounds for any category post or page, using the admin panel.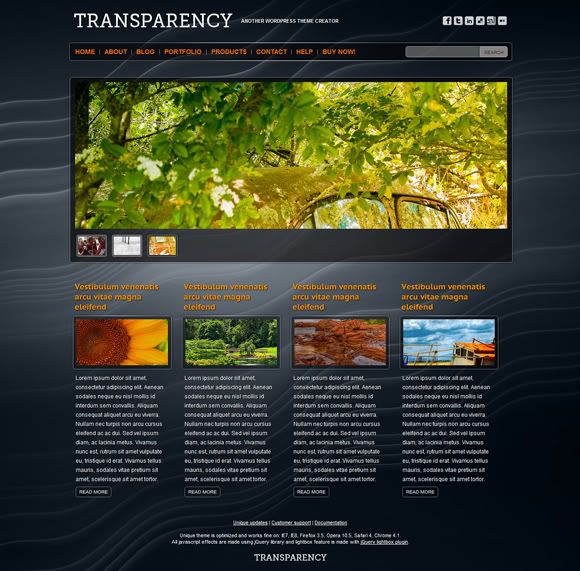 CleanCut is a WordPress Theme that takes advantage with all the amazing new wordpress 3 features and is best suited for Portfolio and Business Websites. It comes with 5 fantastic Image and News slideshows that also support video, has multiple Page templates, a very unique portfolio sorting option and of course gives you the possibility to choose from 5 Fantastic skins.
ReviewIt provides you with a powerful review and community theme utilizing the latest WordPress 3.0 features including custom post types, the brand new navigation and background systems, plus the ability to play Youtube and Flash videos in the excellent Nivo Slider and jQuery lightbox. It's also 100% BuddyPress compatible!
Europa
Europa is an excellent compromise among the conflicting requirements of novelty, simplicity, elegance and function; designed to promote anything from a corporate business to a portfolio site.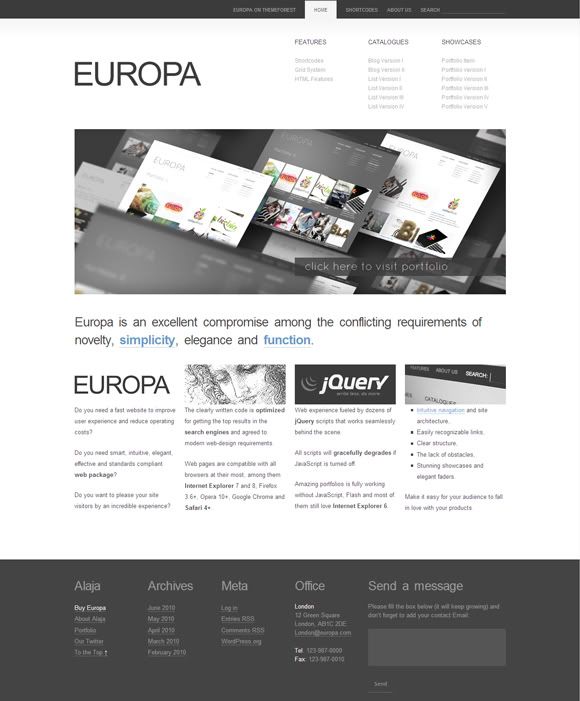 This is a premium web theme that's designed specifically for photographers, designers, motion artists, businesses, corporate events, and all creatives to display their work in a slick site layout. Aspire has been designed with more than just a basic website template in mind.
@studio
@studio is a premium WordPress theme designed to help you tell your story. Multiple homepage layout options and slider variants complement four colour schemes and an intelligent javascript implementation. The result? A powerful platform for your message.
Robust is a premium wordpress theme that will suite any project you can think off thanks to the fresh look and clean design. The theme comes with 5 color skins that are sure to impress any of your site visitors and will suite to your company's needs.
My Portfolio Blog
BlinkWP features a personal portfolio and (not so) personal blog. Built-in with an unique design and functions, blinkWP is easy to edit and to make it your own.
Squared3
SQUARED3 is an WordPress Theme best suited for business and portfolio sites. This theme is highly flexible and equipped with an extremely powerful SQUARED3 Customization Panel. Not just another WordPress theme, but a complete CMS Solution.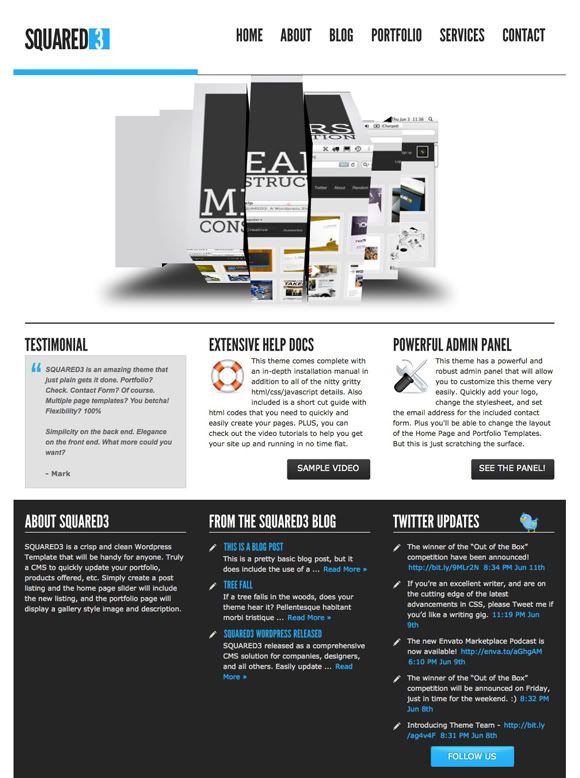 Bon Apetit
The same beautiful theme with a complex and customizable WP framework on top of it. Taking aside the unique, massive back end CMS , that gives you almost unending possibilities of making changes for your needs we've added something that no one on Theme Forest has so far: One click auto install.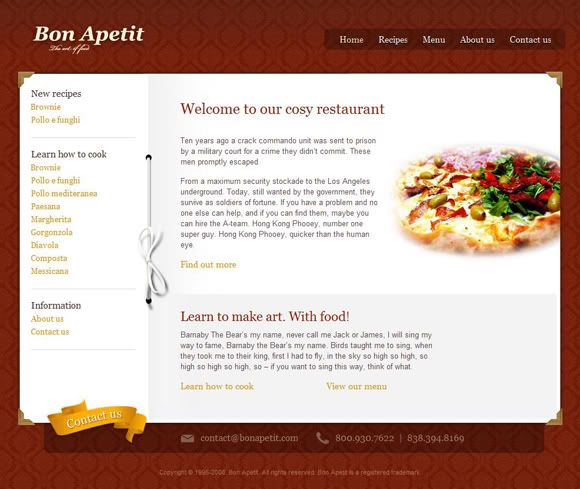 Tesigner
Warm wooden style of this theme are sure to impress your clients and friends. Don't think twice, if you are owner of design studio or freelancer, then this wordpress theme is perfect for you. Slideshow on the main page show the best examples of your work, and convenient portfolio enables easy to post images and video. Many cool features such as drop-down menu, twitter counter, flickr gallery and full widget ready make you love this theme!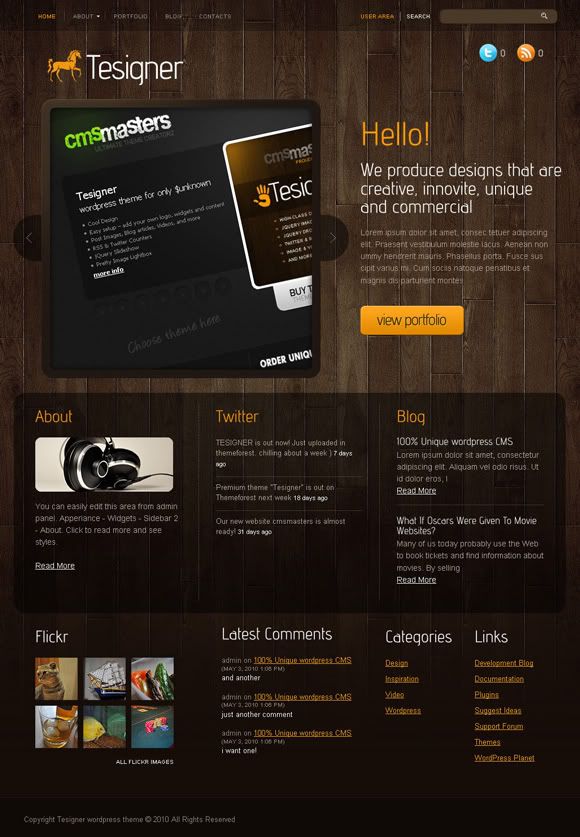 Awesome is a Powerful Professional WordPress theme. It comes with an impressive fully customizable jQuery homepage slider with 2 different effects through admin interface.
Whether your are a wordpress pro or Just a beginner, this theme fully has been covered. Awesome has a huge and powerful backend area you have complete SYSPANEL control over the look and style of your theme. Display number blog post at homepage , Adjust homepage slider setting speed and effects, Enable/Disable function available for navigation and much much more, all without having to touch a single line of code!
Simplicity is a very clean and modern WordPress template that is highly customizable to fit any brand or business.
Vivi Interactive it's a clean and elegant theme, developed for a wide range of businesses. It has a aggressive, unique, high visual impact layout, based on large elements suplemented by large shadows. Comes with 5 different styles, most of them composed of strong colors and 18 different pages.
Echoes Premium theme for WordPress is designed for rapid development of portfolio or business websites.
3 Featured Mainpage styles, 5 Portfolio Page Styles, 19 Shortcodes, working Contact Page Ajax Validated Template and more.
Genova is a content centered design template. It hides all the secondary information (widgets) but shows them on demand (mouse over or tab at a touch screen using jQuery).
Less is more is the design principle on which the template is based on. With that idea it became one of the most minimalistic but at the same time well equipped WordPress themes in this store. It can be used for both, a photo, video or just a design focused blog as well as a showcase for products or a corporate design page for a company.
Horizontal Brand Box
When we say one-page website, we mean one-page blog too. You will not get a single redirect anywhere. The theme has a fully functional deep linking system for that matter. A complex floating, jquery driven layout is on. Resize your browser window to test it. Its goal is to keep the xx% header, xx% content proportion. Plus part of the next page visible to the right.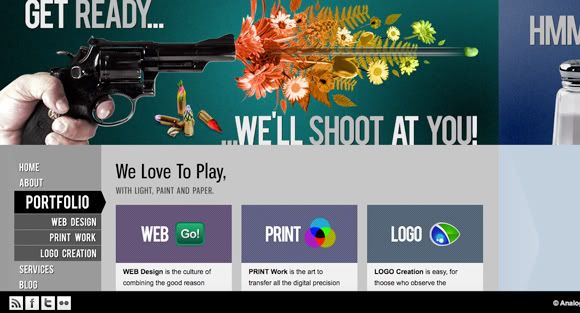 Photo Art Gallery
The same beautiful theme with a complex and customizable WP framework on top of it. As you know by now we've added our popular One click auto install feature.
Sit back, relax, drink your coffee, and watch how our work frame does its magic and auto installs the Art Gallery WP theme to the version that you see on the live preview. This theme requires php 5.0.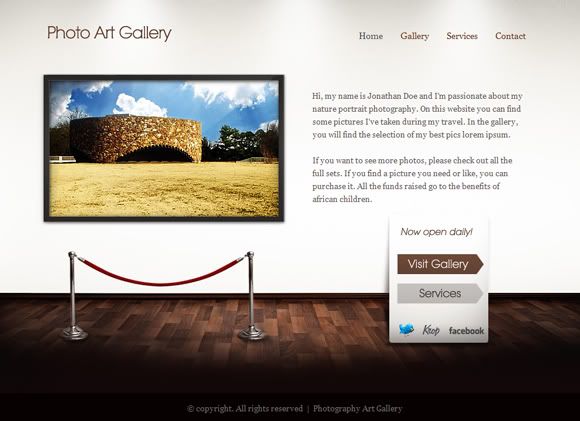 With the popularity of mobile appliations increasing, more and more people are looking for an easy way to create an online home for their software. MyApp was created to make it easy to publish and promote your app, and has been tailored specifically for the mobile market.
Coda is an elegant and feature-rich magazine template with a neat home page js scroller, and an otherwise completely widget based home page design. With a custom styled Twitter module, a "Share this" module and a "Like this" popularity-based post feature this theme will surely woo you.
Emporium,best e-commerce theme so far with balanced features! Create your own online store easily in wordpress.
It transforms your WordPress install into a fully functional Ecommerce store complete with backend administration. Use wordpress to easily manage your store that sells Tangible or intangible/digital goods.
Gudeg
Gudeg theme, is a clean WordPress theme best suitable for portfolio or business site. Come with 4 background schemes, 5 unique page layout, 4 custom widget, and more customization option in theme option page, make your website more unique.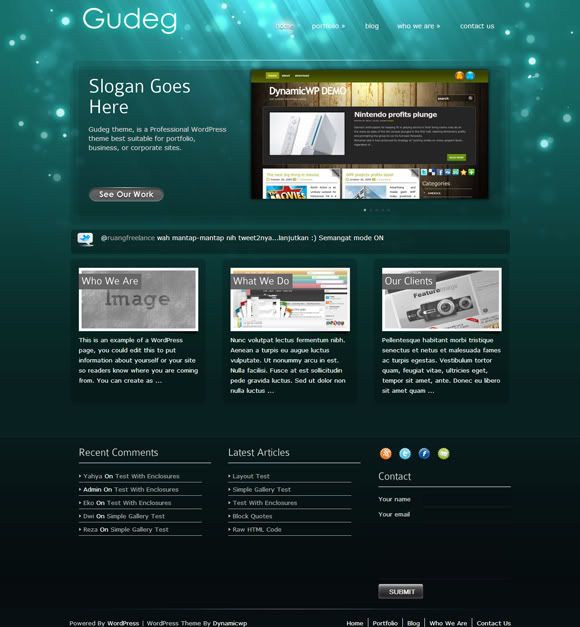 FolioStudio
FolioStudio built for WordPress 3.0. This WordPress Theme utilizes the new custom post types, making it a cinch to update your specific sections on your site!
FolioStudio is the perfect blend of WordPress goodness. Experience everything with FolioStudio, from a sophisticated portfolio, professional business layout all wrapped up with a fresh design.